Hashtag Guide for Instagram 2018
Instagram is a great marketing platform which ecommerce entrepreneurs can use to help grow their ecommerce businesses. It doesn't matter whether you're just getting started with your store, or if you're already making thousands in revenue every month, Instagram is a valuable tool that you can use to your advantage.
Instagram is a free social media platform that can be used for a variety of different functions when you're using it for your ecommerce business. You can promote your latest products, acquire new customers, or even communicate directly with your existing ones. Instagram has reached 1 billion monthly active users as of June 2018. This presents an ideal opportunity for businesses to market their products to a huge audience, without having to spend a large sum of money on paid advertisement. When you're using Instagram for your ecommerce business it's critical that you take advantage of hashtags — they are an invaluable resource for growing both your brand's reach and authority. I know that finding the best Instagram hashtags for your ecommerce business is a challenging task, no matter how savvy you are with social media.
I've created this article to help you garner an understanding of how Instagram hashtags work, and how you can find the best Instagram hashtags for likes for your own content. At the end of this article, you'll be equipped with all the information that you need to start using Instagram hashtags to grow your following today.
Let's get started.
What Is an Instagram Hashtag and Why Should I Use One?
An Instagram hashtag is a singular word, or series of words, that is marked with a hash symbol (#) which is used in a post's description, or comments section. These hashtags help Instagram to organize and categorize content, which enables the platform to present the right content to the right users. If you're a frequent social media user then it's likely that you've already seen hashtags in action.
Instagram hashtags have multiple different purposes — here are a few:
Gain More Likes: Instagram users who are interested in a particular field are likely to search for hashtags which are related to it. When you use Instagram hashtags with your content you'll be giving yourself a chance for said users to access your content, and in turn find out more about your brand — this is why it's a good idea to find out the best Instagram hashtags for likes.
Gain More Followers: Instagram users who are interested in a specific niche are always looking for more content that is related to it. Using the right Instagram hashtags is one of the best ways to gain a higher following on Instagram. It extends your reach, enabling your content to be discovered by more people. If they stumble across your account through Instagram hashtags and they find that you're posting content that is relevant to them, they're likely to follow your account. This is a great situation for any ecommerce entrepreneur, as you'll be able to promote your products and your brand to users who are already engaged.
Make More Sales: Instagram hashtags aren't just about growing your ecommerce business' social media following. Whilst this is a valuable outcome from using Instagram hashtags, you can also make more sales by using them for your ecommerce business' account. If you use niche specific hashtags when promoting one of your products then you're likely to draw the attention of users who are likely to purchase something related to this content. This means that you'll be able to boost your store's sales with well thought out Instagram hashtags used in combination with compelling content.
How to Find the Best Instagram Hashtags
Now that I've covered the benefits of using them, it's time to explain how you can find the best Instagram hashtags for likes for your ecommerce business. When you're running your ecommerce business it's a great idea to take some time to research what the best Instagram hashtags for likes are, especially ones which are related to your niche. It's always best to make data-informed decisions when you're handling marketing for your online store.
There are a variety of different tools which are available which will provide you with information about the best Instagram Hashtags for likes. It doesn't matter what your online store's niche is, you'll still be able to find hashtags that are relevant to your content. Here are some tools which you can use to generate the best Instagram hashtags for likes:
TagBlender: TagBlender is an Instagram hashtag generator tool that you can use to source hashtags that will bring a high engagement rate to your social media content. You'll be able to generate the perfect set of Instagram hashtags from various different fields like 'People', 'Urban', 'Fashion', or 'Art'. The tool is simple to use, and it's free, so you'll can try it for yourself.
HashtagsForLikes: HashtagsForLikes is a great tool that you can use to generate Instagram hashtags for your ecommerce business' social media accounts. This tool is easy to navigate, and you'll be able to source the best Instagram hashtags that are related to your ecommerce business in no time.
InstagramTags: Instagram Tags is a tool that ecommerce entrepreneurs can use to access ready-made sets of  popular hashtags. Their tool offers hashtags that relate to various different fields, from 'Hair' to 'Throwback'. You can use InstagramTags to find plenty of the best Instagram hashtags for likes, and grow your store's presence on social media.
Seekmetrics: This is another analytics tool which provides you with comparative metrics to see how you are performing alongside your competitors. This Instagram hashtag generator tool uses the Instagram API to find the related hashtags. To use the hashtag generator, you simply have to type in a hashtag and click on "generate". You'll then be offered all the similar hashtags related to the one you entered.
All Hashtag: This hashtag generator tool allows you to create and analyze the top relevant hashtags by generating thousands of relevant hashtags that you can then simply copy and paste into your Instagram posts. This Instagram hashtag generator curates hashtags based on a selected keyword which you enter. With three different filter options, you have the chance to search for the Instagram tags that you're looking for.
Is There an Instagram Hashtag Limit?
Yes, there is a hashtag limit on Instagram. Instagram allows a maximum of 30 hashtags per post. That may seem like a lot to some or not much to others. Regardless, using all of these 30 hashtags can spread the word about your photo within seconds. However, if your hashtags aren't useful or relevant, it's simply a waste of time. AND studies and surveys suggest that you might receive fewer interactions–or worse, get shadow banned from Instagram if you're caught abusing Hashtags. Here you can check if your post has a shadow ban:
http://www.instagramshadowbantester.com/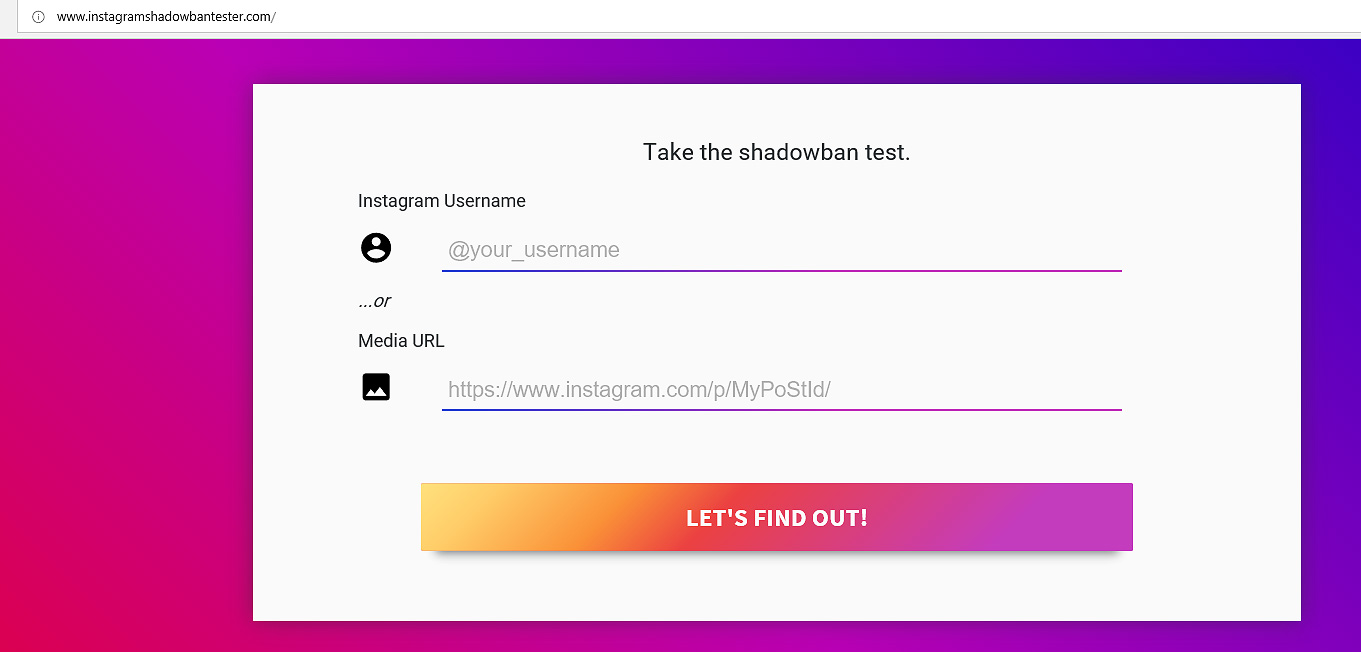 The Instagram hashtag limit may guide your choices for the Instagram hashtags that you use when you're posting content to your social media accounts. If you're using an Instagram hashtag generator to source engaging hashtags, like the ones mentioned above, you'll likely receive a generic set of 30 hashtags. However, you may find that there are much more relevant hashtags for your particular posts. Feel free to use Instagram hashtags which you think will be more valuable for drawing engaged traffic to your content — you know your store and it's audience best.
Using Instagram for Your Dropshipping Business
When you're running a dropshipping business, Instagram is a great platform that you can use to market your online store. It doesn't matter if you're running your dropshipping store with a shoestring budget, or you're already generating large sums of revenue, you'll be able to use Instagram to grow your online presence, broaden your brand's reach, and acquire new customers. Instagram hashtags are a great way to achieve social media marketing success.
There's a ton of benefits to using Instagram hashtags for your dropshipping business. Let's shed light on a few:
Less Investment: One of the undeniable plus points of using Instagram hashtags is that you can do it absolutely cost-free. If you regularly post content on your Instagram account, while making use of the hashtags at your disposal, you will inevitably engage a larger audience that will boost your organic traffic – all without paying a single penny!
Building a Brand: The use of Instagram hashtags for your dropshipping business paired with visual content is the recipe for creating a long-lasting brand image for your customers. If you create a main hashtag that is unique and built on a representation of your brand identity, such as your brand name or slogan, you'll leave a lasting impression on your audience. Using your company name as a hashtag, and encouraging your followers to do the same will create a sense of community, which is healthy for a long lasting brand feeling. Try not to simply focus on hashtags for likes or hashtags for followers, and instead make it your aim to create brand recognition. You can do this by using the right Instagram hashtags that represent your content, and more importantly your brand in the way you aim for it to be represented.
I believe that dropshipping is the best business model for your business. If you run your business with a dropshipping model, you'll never need to worry about carrying inventory. Instead, you'll simply contact your suppliers whenever you receive an order, who will then ship your products directly to your customer's door. 
100 Best Instagram Hashtags for Likes
Here's a list of the 100 best Instagram hashtags for likes, according to statistics from Websta.me, an Instagram analytics tool:
#love

#instagood

#photooftheday

#fashion

#beautiful

#happy

#cute

#tbt

#travel

#followme

#picoftheday

#follow

#me

#selfie

#summer

#art

#instadaily

#friends

#repost

#nature

#girl

#fun

#style

#smile

#food

#instalike

#likeforlike

#family

#travel

#fitness

#igers

#tagsforlikes

#follow4follow

#nofilter

#life

#beauty

#amazing

#instamood

#instagram

#photography

#vscocam

#sun

#photo

#music

#beach

#followforfollow

#bestoftheday

#sky

#ootd

#sunset

#dog

#vsco

#l4l

#makeup

#f4f

#foodporn

#hair

#pretty

#swag

#cat

#model

#motivation

#girls

#baby

#party

#cool

#lol

#gym

#design

#instapic

#funny

#healthy

#night

#tflers

#yummy

#flowers

#lifestyle

#hot

#instafood

#wedding

#fit

#handmade

#black

#pink

#일상

#blue

#work

#workout

#blackandwhite

#drawing

#inspiration

#home

#holiday

#christmas

#nyc

#london

#sea

#instacool

#goodmorning

#iphoneonly
Bare in mind that these Instagram hashtags are the most popular overall, so you may find that some of these are less useful for your business than other hashtags. If this is the case you can use Websta.me to locate the best Instagram hashtags for likes that are relevant to your online store.
What Are Instagram Stories?
The Instagram Story feature is a way to share your photos or videos with your followers for 24 hours, after which they will disappear, and no longer be available for your followers to view on your profile. Not long after Instagram updated their logo in 2016, they came out with another surprise. Instagram followed the footsteps of Snapchat and launched their own story mode feature called Instagram Stories, closely resembling that of Snapchat. Working along the same lines as Snapchat's story feature, after uploading a part of a story, you can choose to add it to your permanent feed, save it to your device for future use, or let it disappear after 24 hours with the story mode.
How Do I Post an Instagram Story?
If you want to add an Instagram Story, you need to tap the '+' button on the top left-hand corner of the app on your Instagram Home page.
Once the camera screen is opened, you have the option to choose between the standard "Normal" capture, or other options such as Boomerang, Focus, Superzoom, Rewind, Handsfree, or going Live. You can then proceed to edit your captured content by using the options available on the top right-hand corner of the screen.
There are various different editing options available to users to decorate their story including stickers, a pen tool and a text addition option. Additionally, you can choose a range of filters, or face filter options for the Instagram Story. To add a filter to your captured picture or video, you have to simply swipe left or right till you have your desired brightness, darkness, or color saturation and tone. To add a face filter to your Instagram story, when using the front or back-facing camera, the filter you choose will automatically appear on the closest person's face. Face filters also work while using Live, Boomerang, Focus, Hands-Free, and Rewind camera formats, and some filters work with two faces at once.
Once you've made your desired changes, you can share the story with your followers by simply tapping on the "Next" option. If your account is set to private, only your followers will be able to watch your story. You even have the option to hide your story from selected followers, if you wish to do so.
To see who has watched your story, tap on the circle in the top-left corner of your Instagram Homepage, which represents your profile. You'll find a list of the people who have watched your story here. You can also add multiple Instagram stories to your profile during the same 24 hour period.
How Do I Add Hashtags to Instagram Stories?
Clickable hashtags can also be added to your Instagram stories to reach out to more people. With a set of tools and filters at your disposal, your Instagram stories are the key to making your profile livelier and more interactive. This feature can potentially add great value for your Instagram profile, and for your brand. So, let's break it down.  
In the same way that users can add different stickers to their Instagram Story, they are now able to add customized hashtags, using the '#Hashtag' sticker option. This gives you the chance to further popularize your brand hashtag, or any particular hashtag that you are aiming for. The people watching your story can simply tap on the hashtag that you have included in your story, and view to all the posted content that also used the same hashtag.
The #Hashtag sticker gives people a chance to dive deeper into possibilities of exploring and connecting with similar posts on the Instagram app. The addition of a hashtag to your story will not just broaden your stories audience, but it may also pave way to gaining more followers. Since the release of the Hashtag sticker on Instagram, you have the chance to be searched simply by the hashtag you are using.
By using the Instagram Story feature, your stories will be featured at the top of your follower's feed, directly under the Instagram logo. This makes it more likely for them to view the story, with a chance for your Instagram tags to be more discoverable. You can also use this feature to give a peek of your behind-the-scenes action to your followers. You have more room to experiment with the editing options and see what works out best for your brand, perhaps with different editing styles, fonts, or capturing styles.
Growing a following for your ecommerce business is a difficult task, and it's important that you can take advantage of every Instagram marketing tactic available to broaden your store's reach. Here are a few Instagram pro tips which you can use, in addition to the best Instagram hashtags for likes, which will help you to grow your following:
Engage with followers: A great way to solidify your support from your existing followers is to engage with them. If you like their Instagram feed don't hesitate to follow them. If they've posted an interesting comment on your latest image, go ahead and give it a like. It'll mean a lot to them, and they'll feel appreciated as a customer.
Post frequently: Frequent posting is one of the keys to success on Instagram. If you're posting compelling content on a frequent basis you have a great chance to bring engaged customers to your online store. If you're only posting once per month then you'll have a much harder time gaining and holding the attention of potential customers.
Check out your competition: Take a look through your competitor's feeds and note down what you like, and what you think you could do better. Use your competitor's as inspiration, especially if they've been successful — they've landed on a successful formula, use this to your advantage.
Visual Content: Make your visual content stand out through not only your creativity but also with your photography skills. If you want to step up your Instagram game make sure to add quality content that grasps the attention of your audience. Take better photographs of your product offerings to curate an Instagram feed that truly represents the voice of your brand.
How Can I Measure My Instagram Hashtag Progress?
It's important to be able to measure the impact of your Instagram hashtags. There are a number of free tools available to help you with this such as: SumAll, Simply Measured,and Iconosquare.
With these tools you will be able to discover the Instagram hashtags that are engaging the most people. This is done by analyzing the average number of likes and comments you get using different Instagram tags.
Here are a few key measurements that might help you to track your progress:  
Number of likes, comments, and saves

Impressions: The number of views on a tagged post

Your Reach: The number of unique visitors on a post

Change in the number of followers

Rate of engagement
You also have the possibility to experiment with new hashtags, and see which pattern to follow after you evaluate if any changes in the hashtags you're using is leading to a desirable result.
Please follow and like us: